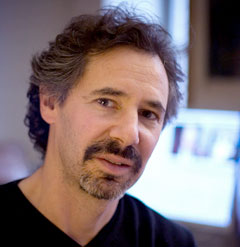 Adam Zucker: Producer/Director/Editor
Adam Zucker is an independent filmmaker and editor whose work has been seen extensively in theatrical documentaries and on PBS, HBO, NBC and other networks. Greensboro: Closer to the Truth is his first independently produced feature documentary.
Adam produced and directed the concluding episode of Free to Dance, a three-part Emmy award-winning series chronicling African Americans and modern dance for PBS. He also co-wrote the series with Madison Davis Lacy. Adam co-produced documentary elements for George C. Wolfe's theatrical production Harlem Song at the Apollo Theater.
For many years Adam has worked as an editor, and he has collaborated with numerous acclaimed documentary filmmakers, including Rory Kennedy, Ken Burns, Barbara Kopple, Madison Davis Lacy, Sydney Pollack, Michael Kantor, Steve Ives and many others. Edited projects include Rory Kennedy's American Hollow (HBO, Sundance Film Festival) and Homestead Steel Strike (History Channel, Ten Days That Changed America series); Michael Kantor's Broadway: The American Musical (PBS); Madison Davis Lacy's Richard Wright: Black Boy (PBS); Ken Burns and Steve Ives' The West (PBS); and co-editor of Dori Berinstein's Show Business (theatrical) and Steve Delano's No Bigger Than a Minute (PBS).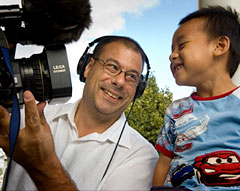 Scott Anger: Director of Photography
Scott Anger is an award-winning journalist, producer and director of photography. After a successful career as a still photographer and radio journalist, Scott started working on films for the PBS program, Frontline. In 2001, he worked in Pakistan on Saudi Time Bomb, and in 2003 spent more than five months in Iraq documenting the war's aftermath for Truth, War and Consequences. Each of these Frontline films won duPont awards for Excellence in Journalism. Most recently he co-produced and filmed Return of the Taliban, which aired nationally in October 2006.
Scott filmed Richard Hankin's feature-length documentary, Home Front, which premiered at the Tribeca Film Festival in New York and aired on Showtime in 2006. Scott is currently co-producing and shooting Deborah Dickson's feature documentary, Voices from the River, about the experiences of the Hmong who fought beside America's CIA during its secret war in Laos during the 1960's and 1970's.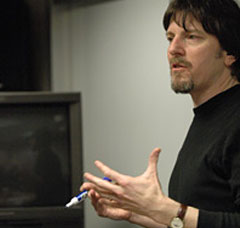 Sheldon Mirowitz: Composer
Sheldon Mirowitz has scored more than fifty film and TV projects. He has been nominated three times for an Emmy Award for best music, most recently for the score to the A&E movie "The Nazi Officer's Wife." His credits include the scores for the Oscar-nominated "Troublesome Creek," the Peabody Award winning mini-series "Odyssey of Life," the Miramax comedy "Outside Providence," the four-hour Hallmark mini-series "Johnson County War" and the feature drama "Missing in America."
Sheldon has also recorded with or produced a wide range of highly regarded New England-based recording artists, including Livingston Taylor, Patty Larkin, Reeves Gabrels, John Lincoln Wright, and Aine Minogue. He has recorded under his own name on the Narada label. Sheldon also serves on the faculty at Berklee College of Music, where he is an associate professor in the film scoring department.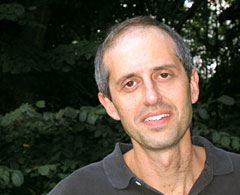 Richard Hankin: Story Editor
Richard Hankin is an award-winning documentary filmmaker. He has worked on documentaries for both theatrical distribution and for HBO, PBS, NBC, ABC, and Showtime. Home Front, which Richard directed, produced, wrote and edited, premiered at the 2006 Tribeca Film Festival, and on the Showtime Network on Veterans Day. Time Magazine named Home Front one of the Top Ten films of the year.
Capturing the Friedmans, which Richard co-produced and edited, won numerous awards including the Grand Jury Prize at the Sundance Film Festival and an Emmy, and was nominated for an Academy Award. Other films he has worked on include Mark Becker's Romántico; Dori Berinstein's Show Business; HBO's Peabody Award-winning Cancer: Evolution to Revolution; Dance Cuba: Dreams of Flight; New York: A Documentary Film; and the Ken Burns film The West. Richard's short film, This Is A Stand Up, which he wrote and directed, won several awards and screened at the Metropolitan Museum of Art and the American Film Institute, as well as on Showtime and PBS.