CLOSER TO THE TRUTH COMMUNITIES [ DAYTON ]
Given real and perceived issues of racial inequality in the Dayton community, cases of increased gun violence and sometimes tense relations between law enforcement and minorities in the Dayton area, we believe an effort like this can be critical to helping our community address these local issues and prompt residents to work together for a better community.
–Civic Life International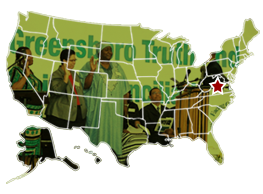 Civic Life International has been working closely with the Dayton Human Relations Council to use the story of Greensboro: Closer to the Truth to encourage thinking and conversation about racial tensions in the Dayton area, paying particular attention to relations between law enforcement officers and the community.
Civic Life International has experience using multiple methods to educate and engage the Dayton community in difficult conversations that can address community issues. They pay particular attention to building dialogue processes that can ensure space for a multitude of perspectives and concerns and will host a mini-workshop with a local dialogue and facilitation group to design an effective strategy for engaging law enforcement on the issue of race relations with sensitivity and care.
The main event was a town-hall meeting for Dayton Police recruits and the larger Dayton community. Panelists at this event included the Dayton police chief and other local organizations who presented a variety of perspectives on relevant concerns, including local initiatives to reduce gun violence.
A few of the community agencies that have joined forces to catalyze the work of the Closer to the Truth Project in Dayton and use the materials in their own efforts include: NAACP, SCLC, Urban League, Eastern Community Center, Dayton Peace Museum, and the University of Dayton. Together they hope these activities will help to give voice to these local issues and eventually lead to a process for addressing them.