CLOSER TO THE TRUTH COMMUNITIES [ MAINE ]
Greensboro: Closer to the Truth was the light bulb going off in my head that I was really missing. It was so comforting to see the whole truth commission process documented in this way, it helped me see past the overwhelming feeling that rises when we talk about finding, sharing and healing from the truth, it helped me realize that we can see this through to fruition and we can make a difference.
–October retreat participant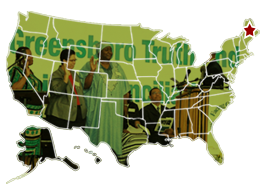 Maine Tribal communities that make up the Wabanaki Confederation (including Micmac, Maliseet, Penobscot and Passamaquoddy) continue to cope with the ramifications of state foster care regulations that existed prior to the passing of the Indian Child Welfare Act (ICWA) that tore apart Tribal families, communities and cultures. These communities have been working to develop a Truth and Reconciliation process that can help them to investigate these abuses, develop a historical record of them and come to terms with this past.
The Maine Tribal State Truth and Reconciliation Initiative (MTSTRI), in partnership with the Edmund Muskie School of Public Service, helped to support the development of a Declaration of Intent and mandate for these efforts through screenings of Greensboro: Closer to the Truth with both the MTSTRI's Convening Group and with representatives of the five Tribal communities involved in the project. They used the film to prompt reflection and dialogue about the purpose of the project, the process and potential models by providing an example of the process Greensboro went through and the lessons learned from that experience to help inform their own process and struggles. In this way, the film helped them to effectively outline a deliberate and sustainable process for their communities.