CLOSER TO THE TRUTH COMMUNITIES [ MAINE ]
These past two days have been emotionally intense, but I leave with a renewed sense of hope and motivation for the work that lies ahead.
–October retreat participant
Greensboro, Closer to the Truth, was the light bulb going off in my head that I was really missing. It was so comforting to see the whole truth commission process documented in this way, it helped me see past the overwhelming feeling that rises when we talk about finding, sharing and healing from the truth, it helped me realize that we can see this through to fruition and we can make a difference.
–October retreat participant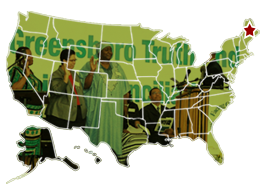 Edmund S. Muskie School of Public Service: Youth and Community Engagement Team
Aroostook Band of Micmacs
Houlton Band of Maliseets
Passamaquoddy Tribe
Penobscot Nation
International Center for Transitional Justice
Maine Wabanaki Indian Child Welfare Coalition